🔥 OFFICIALLY THE BIGGEST SALFORD FRESHERS EVENTS 🔥

⚡️ Salford Freshers Week Wristband 2022 ⚡️

📆 Combining 9 of the Biggest Events in Freshers Week! 📆
🎟 To save you money and guarantee entry to the biggest & best clubs in your new city! 🎟
After SELLING-OUT in previous years, demand for this year's freshers week wristband is VERY HIGH! 🔥
GET YOUR SALFORD FRESHERS WRISTBAND BEFORE PRICES RISE OR WRISTBANDS SELL OUT!

---
🎉 Annual Salford Freshers Week Wristband 🎉
Click here to join your Salford Freshers Facebook Group
In our TENTH YEAR running sell-out events in Manchester🚨 This year is your chance to join the thousands taking over the city's BIGGEST and BEST nightclubs for 8 days of memory making madness 🤪 FRIENDS FOR LIFE will be made! Don't miss-out! 🙌
Those with the official Salford freshers week wristband will receive FREE entry to a different event & venue EVERY NIGHT of your freshers week AND some EXCLUSIVE freebies & student discounts!
Check out our INSTAGRAM here ➡️ www.instagram.com/freshersweekband

Are you ready for one of the BEST WEEKS OF YOUR LIFE so far with The BIGGEST FRESHERS WEEK WRISTBAND in Salford!🎉
---
✨ WHAT TO EXPECT at the Different Events✨
Massive Clubs w/ Funktion 1 Sound Systems 🔊CO2 Blasts 💨 XL Confetti Explosions 🎉 FULL Venue Decor & Production 🏰 Professional Face Painting 🎨 International DJ's 🎶 Crazy LED Visuals 🎞 Giant Hanging Inflatables 🦄 UK Festival DJ's 🎶 Glitter Stations ✨ State of the art Lighting & Laser Shows 🚨 100,000's of Free UV Glowsticks ⚡️ Rave Batons❗️1,000's of Item Giveaways 🎁 Fun Inflatables 🦄 🪬Free Sweets 🍭 Cheaapp Student Drink Prices + Loads more 🎊

25,000 FRESHERS | 8 NIGHTS | 12 VENUES | 1 WRISTBAND which gives you free entry to the BIGGEST & BEST freshers week events in Manchester!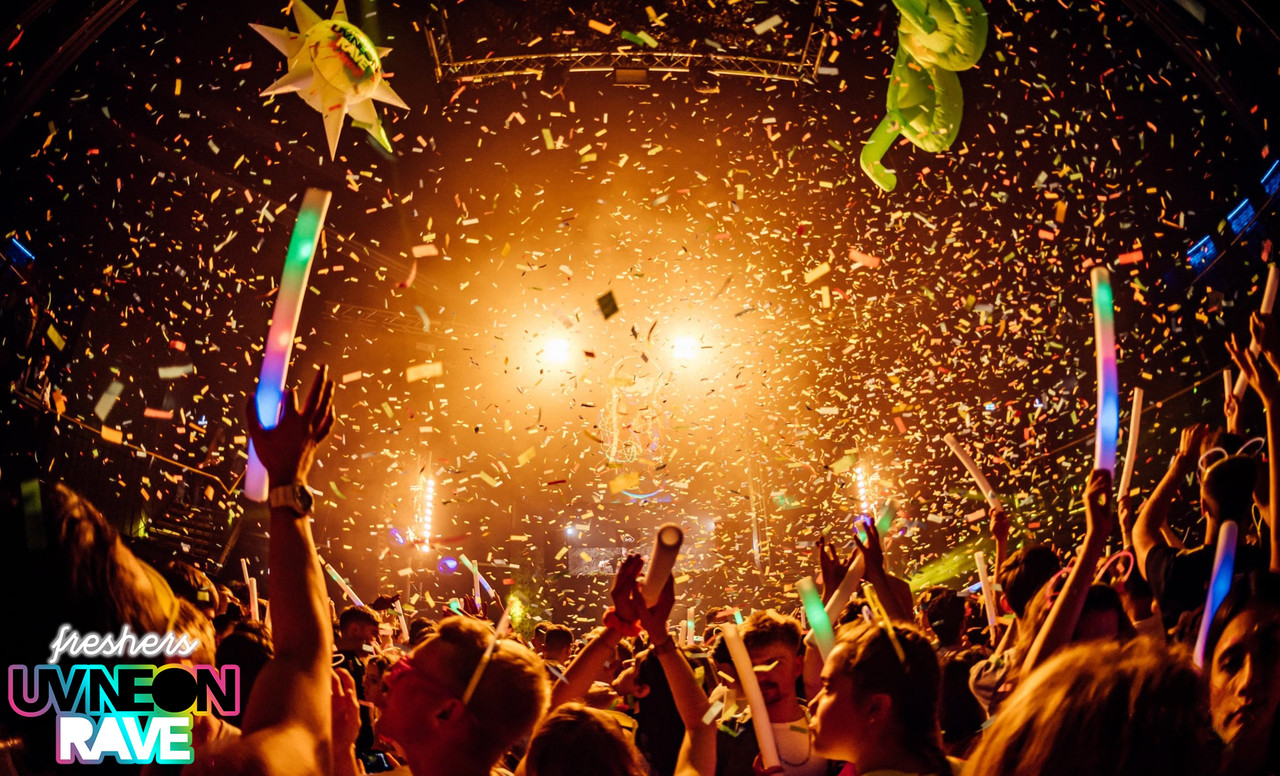 ---
🎊 What's Included?... THE ESSENTIAL EVENTS PACKAGE 🎊
Saturday - OFFICIAL FRESHERS MOVING IN PARTY
VENUE: @ PLAYGROUND
Salford's official Freshers Moving in party! 😱 The first time EVERYONE comes out to meet their new course & hall mates after the big move in weekend! This party is an annual ritual in the freshers diary! 👯 😱

*Wristband Add-on* Sunday - FRESHERS UV NEON RAVE
VENUE: @ PLAYGROUND
The UV Neon Rave is a freshers party on steroids! 10,000s of Free Glowsticks ⚡️ Rave Batons 🌈 UV Face Painting 🎨 Hundreds of UV Neon Giveaways 🎁 Insane Laser, UV & Strobe Show 🚥 Confetti Showers 🎉 + more!
Monday - FRESHERS TAKEOVER 💫
VENUE: @ CARGO
Two of Manchester's BIGGEST Student Event Companies go head to head in a SUPER CLUB! BAD HABIT vs RUMOUR! 3,000 Students!! 5 Rooms of Music! This is an unmissable event!
Tuesday - FRESHERS BACK TO THE 90's & 00's
VENUE: @ HISTORY
Manchester's Biggest Nostalgic Freshers Party! 🍒 We're takin' it back to the old skool - This is for all you motherfunkers and retro ravers 💽 This is the BIGGEST music driven throw-down in freshers week! Sells out every year!
Wednesday - FRESHERS DISCO LAND
VENUE: @ PLAYGROUND
The UK's Grooviest Freshers Tour 🌈🦄 Pull-out your funkiest outfit and prepare yourself for feel-good freshers vibes, full of fun, colour... and plenty of confetti! ✨🎉 Expect the biggest music from an era mixed with an unbelievable full venue transformation 🎪

Thursday - FRESHERS ZOO 🐵🐧🦁}
VENUE: @ GORILLA
The Wildest Fancy Dress Party in Freshers Week!

Friday - FRESHERS TRAFFIC LIGHT PARTY
VENUE: @ HISTORY
Choose a sticker on entry 🔴 Red = Sorry I'm taken 🟡 Yellow = Maybe, if I like what I see! 🟢 Green = Single, Ready to Mingle!
*ESSENTIAL WRISTBAND ADD-ON EVENT:*
SATURDAY 24TH SEPT - ⚡️ BAD HABIT FRESHERS FEST ⚡️OFFICIAL MANCHESTER & SALFORD FRESHERS EVENT
VENUE: @ MANCHESTER ACADEMY - This is the Biggest Super Club/Venue in Manchester city centre!
The Ultimate Freshers Festival in Manchester! 🚨 EXPECT: A diverse playlist spanning multi genres in one of 3 huge arenas from UK Festival DJs! 👁 INSANE ACTS & SPECIAL GUEST PERFORMERS 😈 Festival Vibes Production 🌈 An explosive packed sell-out event 💥
Sunday - FRESHERS GO BANANAS 🍌 CLOSING PARTY
VENUE: @ PLAYGROUND
Free Donuts 🍩 Banging tunes 💥 Cheap drinks 🍹 The ultimate freshers closing party, what more could you ask for?!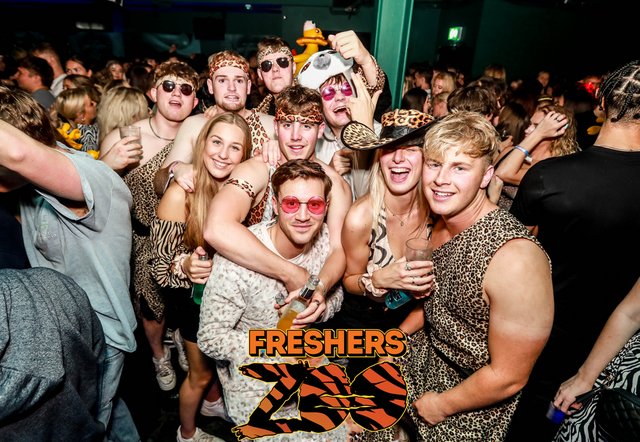 ---
WARNING 🚨
❌ ENTRY TO THESE EVENTS IS TICKET ONLY AS THEY SELL OUT! NO TICKETS ON THE DOOR ❌
WRISTBAND ARE AVAILABLE ON A FIRST COME, FIRST SERVE BASIS
Freshers Wristbands ALWAYS SELL OUT before freshers move into halls!
The earlier you purchase your wristband the cheaper the price too!
❌ There is nothing the University, your parents or the venues can do once the tickets have sold out…they're gone and they go quick! ❌
---
🎟 WRISTBAND COLLECTION 🎟
Online tickets can be exchanged for wristbands on Sunday 11th September at Playground Nightclub between 4-8pm. Address: 58 Whitworth St, Manchester M1 5WW
---
JOIN THE TEAM
If you're social and love to party we may have a job for you! There's loads of roles in the team!
Staff Perks:
✔ A FREE FRESHERS WRISTBAND
✔ FREE Entry to events all year!
✔ FREE Drinks at events
✔ VIP Treatment at events
✔ EARN Loads of Commission
✔ BE of a fun team of promoters
✔ MEET lots of new people
✔ BONUSES for hard work including cash, holidays, vouchers & more!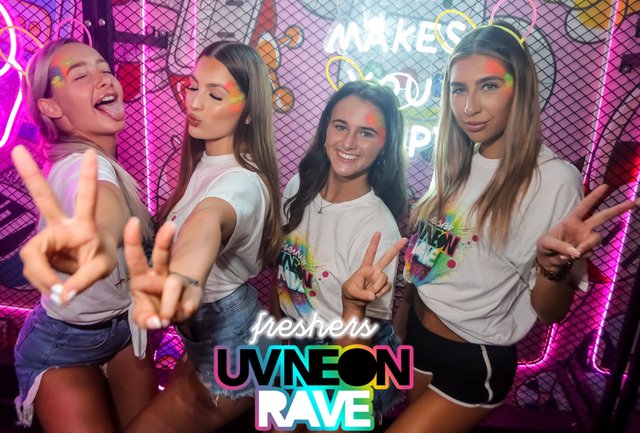 ---
Got any questions? Email: info@salfordfreshers.co.uk