The one you've all been waiting for...
CRUZ 101 Presents star of stage, screen and RPDRUK Season 3... 
ELLA VADAY 👑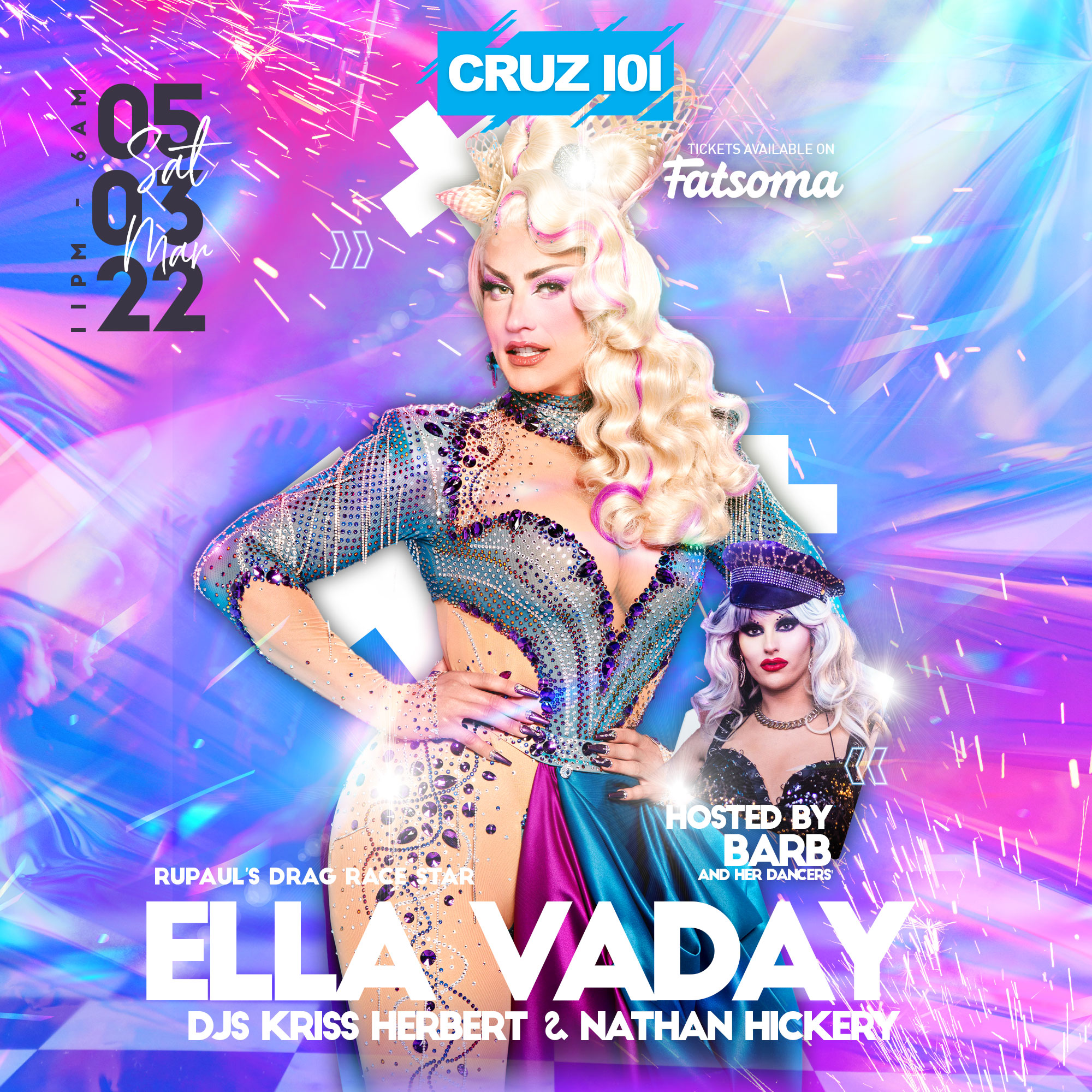 Join Manchester's LGBTQ+ nightclub as we present star of Ru Paul's Drag Race UK Season 3 Ella Vaday to the Cruz 101 stage for a night of incredible performances from the superstar and our host Barb.
• SHOW TIME TBC •
🎶 MUSIC 🎶 
DJs Kriss Herbert and Nathan Hickery will have the dancefloor going all night long with all genres including chart to Commercial House, Urban to R&B, Camp to Party - you're getting 9 hours of the best Gay Clubbing Experience around!
👑  QUEENS QUEENS QUEENS 👑
This is one you've been waiting for... We're so excited to welcome fan-favourite of Ru Paul's Drag Race UK Season 3 Miss Ella Vaday to Cruz 101. Queen of stage and screen Ella Vaday will be hitting the stage at Manchester's LGBTQ+ nightclub on Saturday 5th March bringing you a spectacular performance.
Our fabulous resident Queen Barb will be on hosting duties and also giving a show-stopping performance for you! Don't miss out on what's going to be an amazing night and make sure you get down here early so you don't miss any of the fun!
💡 EXPERIENCE 💡
Cruz uses only state-of-the-art sound equipment coupled with over 50 Moving Lights, an LED Stage consisting of over a 1,000,000 pixels & hundreds of LEDs this is the total Gay Clubbing Experience.
🍸 DRINKS 🍸
We serve Premium Drinks at prices that don't break the bank, we also offer Fizzy Vimto as a mixer at zero extra cost.
Ask your bar person for more offers or details on the night, alternatively message us if there's something specific you'd like to know.
_____________________
🌈 Manchester's LGBTQ+ Nightclub
_____________________
📱 Want to save money? Search "Cruz 101" on your App Store now & save £££ + exclusive App only offers just for you.
Or head to CRUZ101.COM/APP
🥂 To Reserve one of our VIP Booths please e-mail Bookings@Cruz101.com or Inbox us for more details