𝗧𝗵𝗲 𝗔𝗽𝗽𝗿𝗲𝗰𝗶𝗮𝘁𝗶𝗼𝗻 𝗣𝗮𝗿𝘁𝘆 𝗽𝗿𝗲𝘀𝗲𝗻𝘁𝘀; 𝗧𝗵𝗲 𝗗𝗮𝘃𝗶𝗱 𝗔𝘁𝘁𝗲𝗻𝗯𝗼𝗿𝗼𝘂𝗴𝗵 𝗝𝘂𝗻𝗴𝗹𝗲 𝗥𝗮𝘃𝗲 🦁

---


TAKE ADVANTAGE OF OUR HUGE GROUP SAVINGS OFFER ⏬

2 TICKETS FOR £10! 🚨

Only 50 available in total across these group savings offers, so secure yours before they run out!
---

The most downright outrageous rave of first term is here celebrating the nations most treasured man; David Attenborough. 😍👑
⏬ WATCH THE VIDEO HERE ⏬

And that's not all! We throw in a Jungle Rave theme with full club decor, so prepare to be transported away from a gloomy autumn night into a jungle that even Sir David would shoot a documentary in! 🎋
We encourage full jungle attire - so dig out those animal costumes or come as a tree, we don't judge! ❤️

Talking of trees...
🌳💚 We'll Plant A Tree For Every Ticket Sold! 💚🌳
🌳💚 We'll Plant A Tree For Every Ticket Sold! 💚🌳
🌳💚 We'll Plant A Tree For Every Ticket Sold! 💚🌳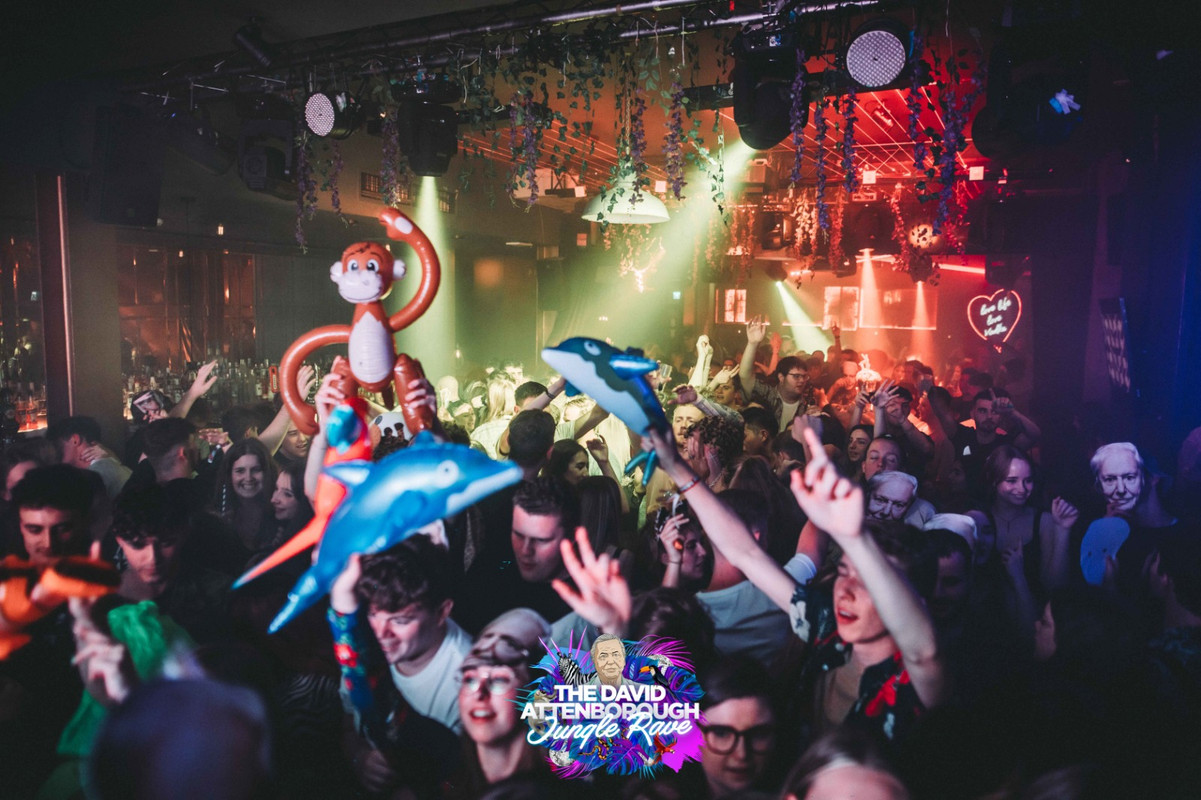 𝐖𝐇𝐀𝐓 𝐓𝐎 𝐄𝐗𝐏𝐄𝐂𝐓:
👕 First 100 Through The Door Get FREE David Attenborough Appreciation T-shirts
🌲 David Attenborough Freebies - key-rings, masks, badges, stickers, condoms (yes condoms 👀) & more!
🌎 Stunning Blue Planet Club Visuals
🎨 Glitter Face Painting
🌴 Jungle Club Decor
🐒 Inflatable Monkeys, Lions and Giraffes
👑 Best Dressed Competition
🎉 Confetti Showers at Midnight
📸 Get Your Photo Taken in our Themed Photobooth with our life-size cutout of Sir David Himself!
𝐌𝐔𝐒𝐈𝐂 𝐏𝐎𝐋𝐈𝐂𝐘:
🎶 Our DJs will be playing only the very best in House, Techno, Bass & Hip Hop 🤩
𝐄𝐗𝐓𝐑𝐀 𝐃𝐄𝐓𝐀𝐈𝐋𝐒:
🚫 NO single use plastic cups will be used
🚫 ONLY biodegradable eco straws will be used
🚫 ALL decor is completely recyclable
---


𝙃𝙖𝙫𝙚 𝙖 𝙗𝙞𝙧𝙩𝙝𝙙𝙖𝙮 𝙤𝙧 𝙨𝙥𝙚𝙘𝙞𝙖𝙡 𝙤𝙘𝙘𝙖𝙨𝙞𝙤𝙣? 𝙊𝙧 𝙖 𝙨𝙤𝙘𝙞𝙚𝙩𝙮 𝙡𝙤𝙤𝙠𝙞𝙣𝙜 𝙛𝙤𝙧 𝙖 𝙘𝙡𝙖𝙨𝙨 𝙣𝙞𝙜𝙝𝙩 𝙤𝙪𝙩 𝙛𝙤𝙧 𝙖 𝙨𝙤𝙘𝙞𝙖𝙡? 

📩 𝙀𝙢𝙖𝙞𝙡 𝙪𝙨 𝙛𝙤𝙧 𝙗𝙤𝙤𝙩𝙝 𝙗𝙤𝙤𝙠𝙞𝙣𝙜𝙨 & 𝙜𝙧𝙤𝙪𝙥 𝙙𝙞𝙨𝙘𝙤𝙪𝙣𝙩𝙨 ➡️ hello@themovementevents.co.uk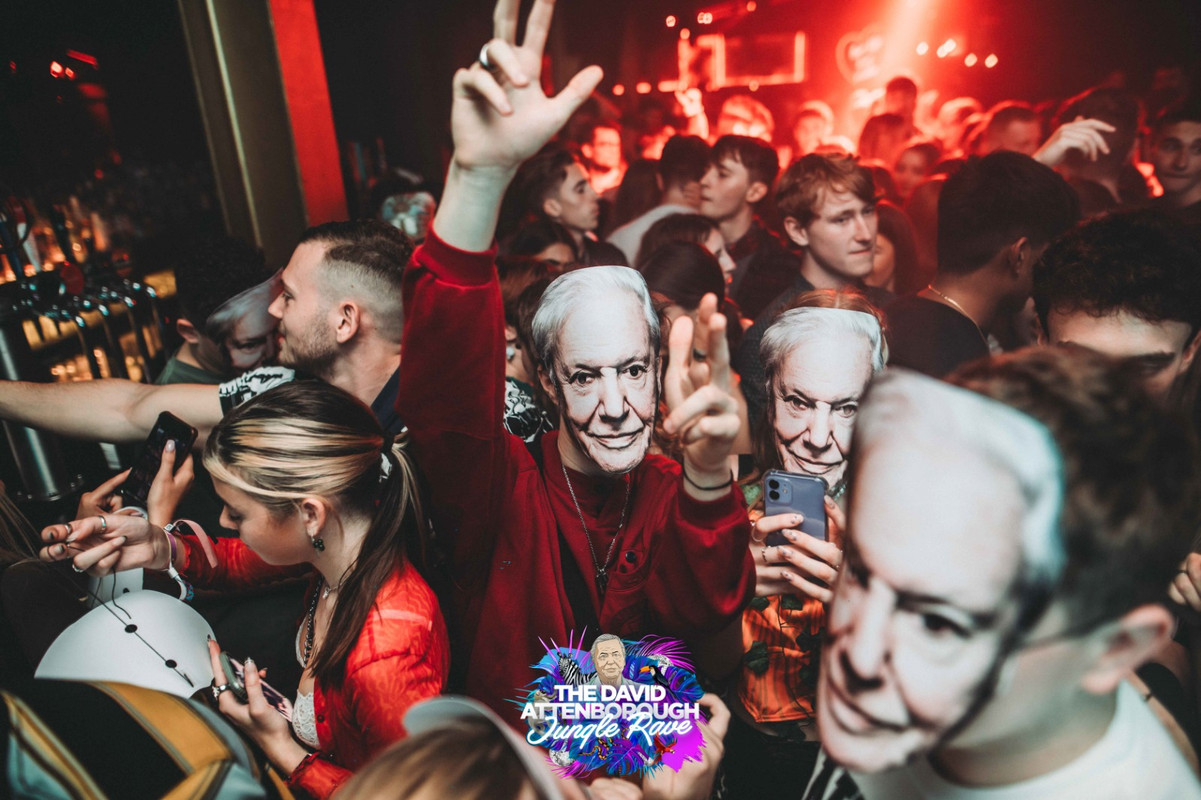 ---

𝙒𝙀 𝘼𝙍𝙀 𝙃𝙄𝙍𝙄𝙉𝙂! 𝙅𝙊𝙄𝙉 𝙊𝙐𝙍 𝙏𝙀𝘼𝙈! 📣
Do you live in Guildford? Or are you heading to University this year or a returning student? Want to make some money over the summer, make friends in the process and also guarantee yourself tickets + VIP for the best events all year round (not to mention the free drinks & mates for life made along the way!).
We're looking for super chatty individuals to spread the word of the most outrageous rave of first term and sell tickets to The Appreciation Party through groups and social media group chats!
Interested? Send us a quick email with 'REP' as the subject to hello@themovementevents.co.uk
Ticket Rep Bonus Scheme:
Sell 20 Tickets = £20 commission + Free Ticket
Sell 50 Tickets = £50 commission + Free Ticket + ALL Free Merch listed above
Sell 100 Tickets = £100 commission + Free Ticket + ALL Free Merch listed above + £100 Cash Bonus
[Ticket includes entry to David Attenborough Jungle Rave]
Work can be done on a computer/phone. Takes 5-10mins to sign up. 📲
---

Surrey Freshers Week